We've just received all the new Kreepsville 666 stock, so for spring 2010 you can find hordes of zombie goodies over at our website www.eggnchipsclothing.co.uk you can use the special discount code "kreepy threads" with out the quotation signs and get a 10% discount.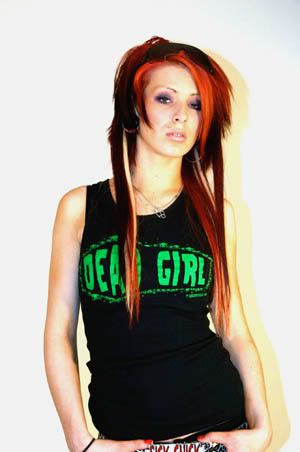 This has always been a firm favourite the Dead Girls Skulls tank top, we've been keeping this garment firmly in stock for over a year now, it fits like a glove and is perfect for the summer. With the infamous Dead Girl skulls design across the chest it always grabs the eye, available in Small, Medium and Large you can be the center of attention with this tank top.
The I Love Zombies tank top is another firm favourite we even stocked up with the T Shirt equivalent, Zombify yourself with this gorgeous tank top as modeled on the left. This has the amazing artwork of a bleeding zombie heart to show how much you love Zombies grab one of these tank tops, we also have the guys I Love Zombies Tee in stock too, just visit our website to see more.
We've also ordered in more I Suck On The First Date Tank Tops, these are yet another one of Kreepsville 666 awesome tank tops, they have great artwork and fit like your wearing a second skin. This tank top has an image of a vampress licking her lips and proving how tasty tonights date was.
To get these tank tops and heaps more Kreepsville 666 goodies head on over to our website www.eggnchipsclothing.co.uk and take a look around, don't forget the 10% discount "kreepy threads" when you check out.